The Rates allow us to add certain types of discounts or increases in our products or events according to our needs or business plan. Unlike Sales, rates are applied by groups, categories or products, and are not limited to campaigns.

To add a new rate, go to the "New" button on the upper right corner, and this will open a new window with the options of the Rate.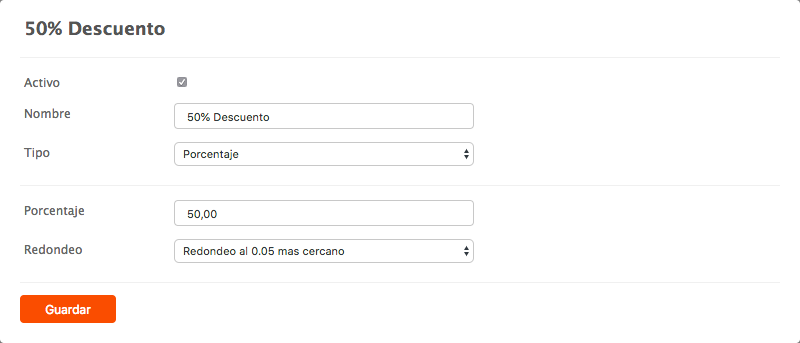 Enable: Use this option to enable or disable the selected rate.

Name: Name to give to the rate.

Type: Here you can select the type of rate you want to apply, whether it is a fixed figure or a percentage of the product price.

3.1 Price: If we choose this option, you can save your rate, subsequently establishing the price of the item.

3.2 Percentage: Two new boxes will appear, as in the previous image, which use is exposed subsequently.
Note: To edit the individual price of the product, do it from its tab.
Percentage: Establish the percentage to be discounted from the price. If you want to increase the price, add the symbol "-" in front of the percentage you are going to apply.

Rounding: This option allows you to adjust the rounding of the final price after applying the rate discount if it is a percentage. Using the example image above, if the final price leaves a decimal that does not end in 0 or 5, it will round to the nearest 5.
Note: The percentage and rounding fields only apply to the percentage discount.
Price discount
In the case of choosing the price discount, once the rate has been created, you must add the products to choose from by clicking on the button.
A new window will open where it will allow us to add the products and their new price.