The marketing forms are a way to know the opinion of your customers about your business. Know what they think about your food, service, local, etc. It can help you a lot to improve. For this you can create some forms and adapt the questions to your needs. They can then be activated on any device and will show up when closing an order. Even if they are activated, if at any time you do not want them to show up each time an order is closed, they can be disabled simply by clicking a button or even temporarily disabling them in a very simple way.
How to create a marketing form:
Acces the Back Office.

Click on Modules


Enter Marketing.

Click on the New button and enter a name to help you identify the form.

Once created, click on the blue color number reflected in the question section.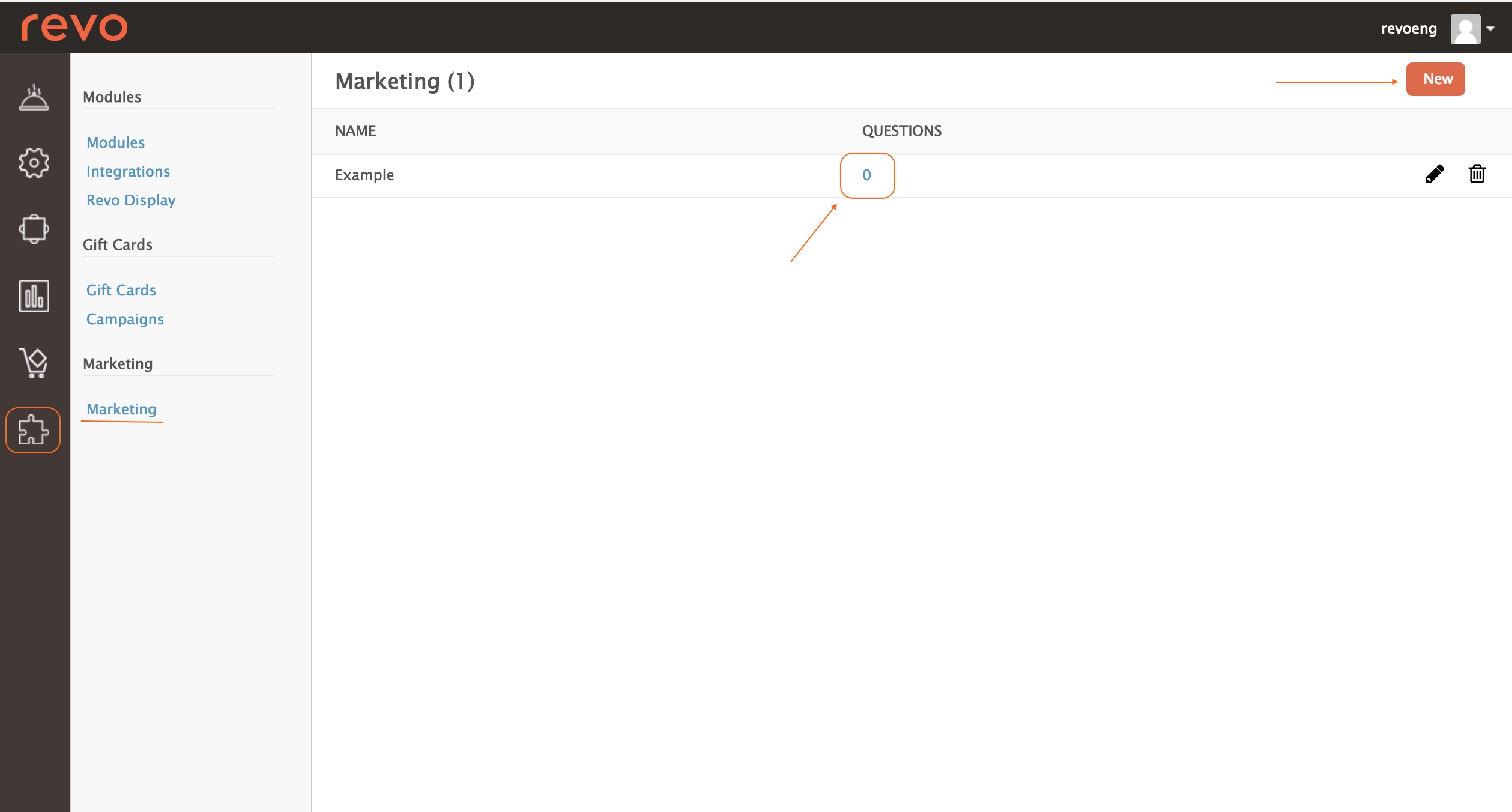 Once inside, click again on the New button to create the questions you want to ask your customers. There are different types:
Text: Free text field to write any annotation.
Numbering: Numeric field to indicate any numerical entry.
Range: A bar is displayed to select the desired value.
Score: The numbers from 1 to 5 are shown to select one of them.
Selection: Manually add different options to select when the form is displayed.
  Select this icon to move and change the order of the questions.
  Click on this icon to check or uncheck the questions that make up the form.
  Select this option to see statistics of your customer's reactions.
  Edit any information about the question.
  Delete the question if you are not going to use it anymore.
Note: If you delete one of the questions, the statistics related to it will also be deleted.
Enable a marketing form in Revo Xef (App):
Enabling or disabling the form in the App is very simple.
Go to the Revo menu

Click on to sync the account and download the latest changes.

Enter Preferences.

Select the form in Marketing Forms.

Click on Done to confirm.

Once this is done, each time an order is closed (collected), by clicking on the corresponding payment form, the fill-in form will show up.
Note: When the form shows up, it can always be omitted by clicking on the icon . If you want to disable it completely, enter again Preferences and select - in the marketing form option, and it will not show up again when closing the orders.